Summer School at The Oxford Academy
The aim of the programme was to deliver a summer school with a blend of academic education and enrichment activities. We wanted students who missed out on their full transition experience within 2020 and 2021 to build a community with their fellow pupils, forge relationships with new teachers and ensure they had the opportunities to familiarise themselves with their new school environment.
Purpose: Department for Education (DfE) research estimates that in the first half-term of autumn 2020, pupils in:
year 3 to 9 were on average around 1.6 to 2 months behind on their reading

year 3 to 7 were around 3.2 months behind on their maths

schools with high numbers of pupils eligible for free school meals were on average further behind those in schools with low free school meals eligibility
Anecdotal evidence also points to children and young people's mental health having suffered from lockdown and from periods of individual or class isolation even after schools reopened fully in the autumn term. Evidence suggests a broader benefit for families and communities, support for vulnerable children and young people, pupil mental health and wellbeing, improved education engagement and transitions, and reduced youth violence.
Out of the 2820 schools who ran summer school provision in 2021, The Oxford Academy was joint 17th in the number of days provision offered. This is testament to the dedication and commitment of staff at the school and local partnerships.
Over the 4 weeks students were able to partake in a variety of different academic subjects and experiences, these included; Creating a filmed production of Romeo and Juliet, writing a short shorty, experiencing different cultures and languages, discovering a range of scientific investigations and even a Duke Of Edinburgh experience.
Impact - What our students and parents/carers said;
"The most enjoyable part of the week was the teamwork"
"I now find Shakespare interesting"
"I am most proud of myself and others as we were mature"
"My child has developed more confidence"
"I'm impressed with myself for doing drama, I don't normally do drama"
"I really enjoyed doing the music"
"Giving kids opportunity for environments in debates and opening up their minds"
"Huge amount of encouragement and a positive time"
Lauriston Lights at The Oxford Academy summer school
The Lauriston Lights project offers early intervention for children from low socioeconomic backgrounds during the crucial transitional phase between primary and secondary school onwards. Over the course of two weeks university mentors developed mentees' higher order thinking skills, relational intelligence, character strengths and the realisation of their potential.
Each mentor met with their mentee each day to talk to them about what's on their mind: their aspirations, worries, or anything else they want to mull over with someone. Together, mentors and children worked towards an 'about me' project where children envision what they want to be like when they grow up, and how they can get there.
Students attended workshops based around the mentor's subject that they study at university. This is a great way to introduce children to new ideas and to show the passion that someone they respect has for an academic subject.
Some of the topics covered were;
-Debating
-Escape rooms
-Team building
-Mentor meetings
-Science
-Cooking
-Drama
-Dance
-Sport
-Philosophy for children
-Character building
"Lauriston Lights expanded my view of the world."
"This week has changed my life in many ways. It has boosted my confidence and self-esteem."
"I've never talked to someone that's in university and now they're giving me first hand advice."
"Lauriston Lights is amazing: it gives you a chance to express your thoughts and feelings about things."
"At Lauriston Lights you learn new things every day"
"I learnt that I don't have to pursue a career because I have to or because it makes lots of money, but because it makes me happy"
"Thank you for such an awesome summer school. I'm going to miss you so much"
"Can I come back next year?"

Our academic term may have ended in July but the fun continued throughout the summer! Year 6 and 7 students participated in The Oxford Academy summer school opportunities which offered a range of themed weeks including: Write a Book in a week, Science and Duke of Edinburgh Award introduction, Exploring Different Cultures and Play in a Week.
The students embraced our school values of respect, determination, aspiration and responsibility as they rose to the challenge of their chosen theme.
Our budding actors videoed an entire production of Romeo and Juliet in a week https://youtu.be/JPjvTgWjEhE. After showing the video to a summer school audience, the students reflected on their learning for the week. One Year 7 student said, 'I'm quite impressed with myself because I don't normally do drama. I get embarrassed when I do drama but it was actually really good.' A Year 6 commented, 'the most enjoyable part of the week was teamwork. I liked that my confidence went up.' It seems that some students have changed their opinions about Shakespeare as one student said, 'I thought Shakespeare was boring but now he's interesting and I can't wait to learn more about him.'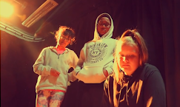 Through the Duke of Edinburgh Award introduction session students learnt how to pitch tents and enjoyed cooking their own meal on the camping trangia before learning about food energy in their science session. The students' highlight of the week was burning crisps to work out how much energy was in them!
In the Write a Book in a Week sessions, students decided to work together on writing a romcom. This proved more challenging than expected and at the end of day one a student reflected 'we don't have much com!'. Their determination didn't falter however, and by the end of the week they had written and published their own book